Quantonation Ventures Environmental, Social, and Governance (ESG) Policy
Quantonation Ventures is a leading venture capital fund dedicated to Quantum Technologies. As pioneers in this innovative field, we recognize the need to go beyond financial metrics and incorporate Environmental, Social, and Governance (ESG) considerations into our investment practices. This policy outlines our commitment to ESG principles, demonstrating our belief that responsible investing is not only ethically right but also contributes to achieving sustainable, long-term performance. Therefore, for the future we are committed to comply with Article 8 of the Sustainable Finance Disclosure Regulation (SFDR), taking our ESG efforts to the next level.
At Quantonation Ventures, we are committed to a comprehensive approach to ESG that reflects our role as a pioneering investor in Quantum Technologies. We regard ESG factors as integral to our risk management and decision-making processes. Recognizing the Principles for Responsible Investment (PRI) and the United Nations Sustainable Development Goals (SDGs) as key frameworks, we endeavor to align our practices with these global standards, contributing to a more sustainable and equitable future.
We believe that integrating ESG considerations into our investment activities will not only serve societal interests but also reduce risk, uncover opportunities, and enhance long-term value for our portfolio companies and investors.
We also see great potential in Quantum Technologies to drive innovation in environmental technologies, such as quantum sensing for environmental monitoring or quantum algorithms for optimizing renewable energy systems. We seek to invest in companies that are leveraging Quantum Technologies in these ways, contributing to the achievement of SDGs 9 (Industry, Innovation, and Infrastructure) and 13 (Climate Action). In addition, hereunder a few examples of significant examples of use cases in the fight against Climate Change:
Climate Modeling and Prediction: Quantum computers have the potential to process complex algorithms faster and more accurately than classical computers. This could greatly enhance our ability to model climate scenarios and make accurate predictions. Better modeling would enable scientists to more accurately predict the impact of climate change and devise effective strategies to mitigate it.
Carbon Capture and Energy Efficiency: Quantum technologies could also be used to develop new materials and processes for carbon capture and storage or to enhance energy efficiency. Quantum computers could simulate and analyze chemical reactions at a level of detail currently impossible, potentially leading to the discovery of new materials for efficient carbon capture or energy storage.
Optimization Problems: Many problems related to climate change involve optimization. For instance, optimizing the layout of wind farms to maximize energy output or optimizing logistics networks to reduce emissions. Quantum computers could solve these complex optimization problems more efficiently than classical computers.
Energy Consumption: Quantum computing, in the long run, has the potential to be more energy-efficient than classical computing. As quantum technologies mature and become more widely available, they could help to reduce the carbon footprint of the information and communication technology sector.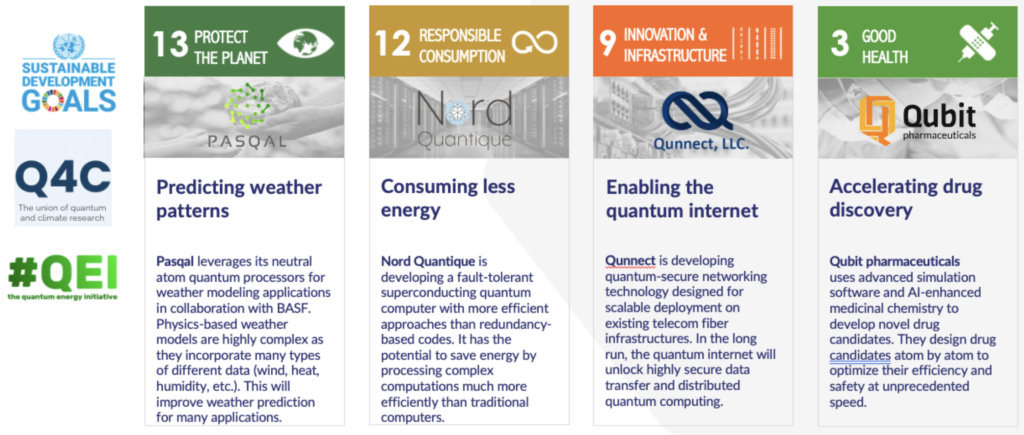 Figure1: Few examples of how Quantonation Portfolio companies can contribute positively to UN's sustainability goals
---
a) ESG conception at Quantonation Ventures
In response to the new social and environmental challenges facing society, Quantonation has decided to actively finance technologies that contribute to the fight against global warming. Additionally, Quantonation Ventures is deepening its Environmental, Social, and Governance (ESG) policy to better consider the overall impact of their activities. Quantonation has been a signatory of the United Nations Principles for Responsible Investment (PRI) since December 2022. We will produce our first report for the PRI in January 2024, with a transparency report to be made public around fall 2024.
This ESG policy is based on the following observations:
The economic and financial performance of a company does not exempt it from its social and environmental responsibility. It is therefore fundamental that Venture Capital contributes to the common good;
Quantonation Ventures invests as a minority shareholder in startups, which rarely have the means to conduct comprehensive ESG analyses. As such, Quantonation Ventures is encouraging them to do so via the reporting platform Vestberry integrating statistics about gender equality and questions on their ESG commitments;
We believe that ESG criteria are not coercive. On the contrary, their application is a factor in creating value for companies. It helps to minimize risks, optimize costs, and improve strategic perspectives.
---
b) A global ESG strategy
Starting from the premise that global challenges cannot be met with partial solutions, Quantonation Ventures intends to apply a comprehensive policy, at all levels of our activity.
This strategy is manifested in several ways:
In the management of Quantonation Ventures's day-to-day operations (reducing energy consumption, the use of disposable materials, etc.);
In setting and assessing internal goals at Quantonation Ventures, determined and evaluated by the management committee;
In Quantonation Ventures's portfolio reviews, where the progress of implemented ESG measures will be detailed for investors and shareholders;
Within Quantonation Ventures's entrepreneurial and sector specific ecosystem (Le Lab Quantique, investor associations, events for portfolio companies, etc.);
In the investment decision (extra-financial and potentially exclusive due diligence);
In supporting portfolio companies in determining a sustainable and value-creating strategy;
In assessing the ESG performance of portfolio companies, which is reported. At each stage, ESG is comprehensively understood, including human resources management, governance transparency, energy consumption, supply chains, and strategic planning.
---
Quantonation Ventures is pleased to bring to your attention its Article 29 2022 Report on the Energy Climate Law.
---
Quantonation Ventures is pleased to bring to your attention its Detailed Responsible Investment Policy Report.